UMD Libraries expands LGBTQIA+ literature collection
170 new titles of transgender and bisexual fiction and poetry now available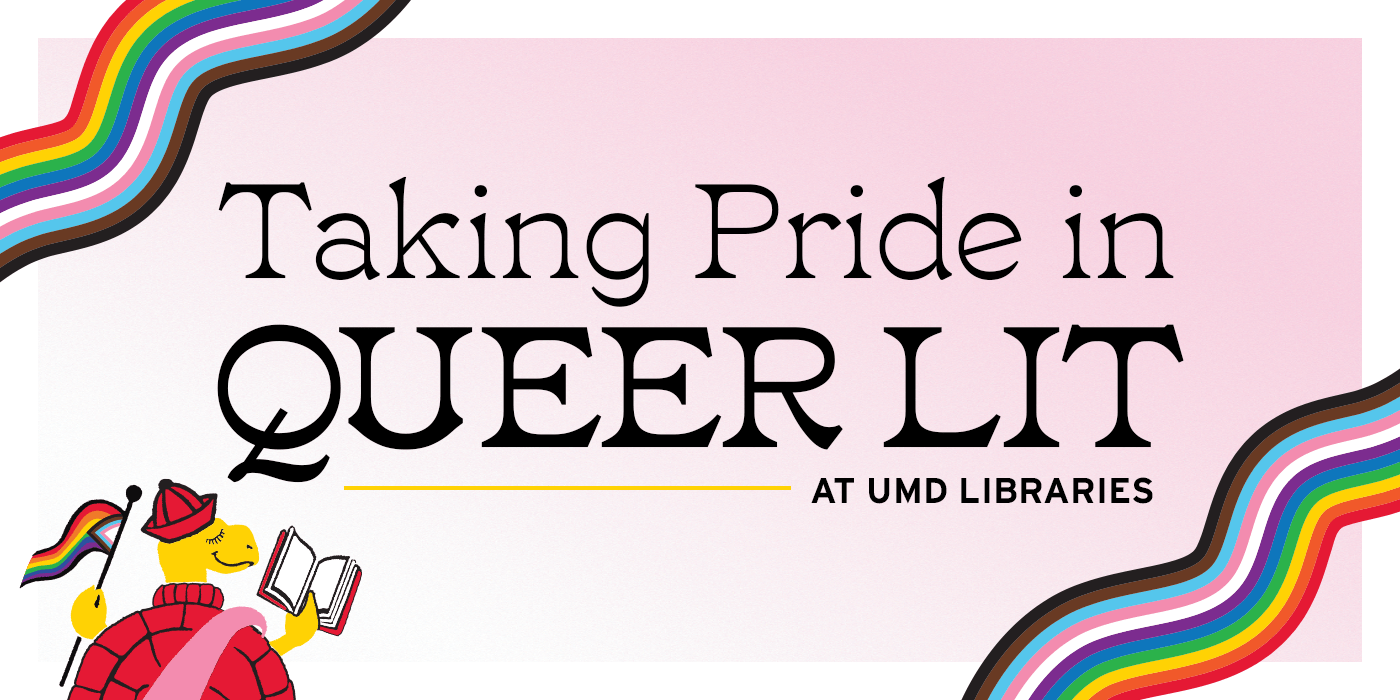 The University of Maryland Libraries is pleased to announce an expansion of our LGBTQIA+ English literature collections with 170 new titles of transgender and bisexual fiction and poetry. In the face of rising book bans and challenges that disproportionately target LGBTQIA+ literature, UMD Libraries is committed to continually evaluating and expanding this collection to ensure a diversity of backgrounds, experiences, and voices are reflected in the Libraries' collections. With an already relatively robust collection of gay and lesbian literature, Humanities and Social Sciences Librarian Emily Cranwell Deinert and former Graduate Assistant for Teaching and Outreach Jack Owen specifically focused on expanding the UMD Libraries' collections in transgender and bisexual fiction and poetry.
Over the course of the Spring 2023 semester, Deinert and Owen collaborated in a field study through the Master of Library and Information Science program. After reviewing the LGBTQIA+ literature collection at UMD Libraries, they identified the need to increase the representation of transgender and bisexual fiction and poetry and were able to add most of the Transgender and Bisexual LAMBDA "Lammy'' Award winners and finalists to the Libraries' collections - a total of 170 titles not previously held by UMD Libraries. LAMBDA Literary, a nonprofit organization in New York City, has been a prominent proponent of LGBTQIA+ literature since 1987, and Lammy recipients and honorees represent some of the most distinguished authors in the LGBTQIA+ literary canon, making the awards a useful starting point for this expansion.
"Because MLIS students often have few opportunities to gain collection development experience while completing their degrees, I deeply appreciated being able to complete a field study project that included hands-on collection development work," said Owen. "And being able to expand our LGBTQIA+ literature collections through the field study made this project especially rewarding and a lesson I will take with me as I continue in my career."
The newly purchased titles span over two decades of LGBTQIA+ literature, ranging from 2001 up to the present day. A small sample of titles in the collection include the short story collection,  
"We Want What We Want" by Alix Ohlin; the poetry collections "I Love You and I'm Not Dead" by Sade LaNay and "The Sunflower Cast a Spell to Save Us From the Void" by Jackie Wang; and the novels "You Exist Too Much" by Zaina Arafat and "Summer Fun" by Jeanne Thornton. You can view all of the recently added titles and explore more of our LGBTQIA+ collection in the Queer Lit at UMD Research Guide.
"This project has been an excellent starting point for expanding our LGBTQ+ collections," said Deinert, "I plan to use a significant portion of my budget going forward to ensure a robust collection that represents everyone at UMD."
You can find these titles in the American Literature section on the 7th floor of McKeldin Library. If you have suggestions of more titles to purchase to build this collection, please contact Emily Cranwell Deinert at edeinert@umd.edu.