Support the Libraries
The University Libraries is the heart of University of Maryland in so many ways. Not only does McKeldin Library sit at the heart of campus, but we sit at the heart of subject matter, as the entire campus community depends on us for information. We are a vital source that supports their academic aspirations. The Libraries has more than 1.5 million unique visits annually on-site and an additional 1.6 million visits online. These visits, made up of mostly students and faculty, get to the heart of their research and study, through on-site and digital resources that are provided by the Libraries.
Gifts to the Libraries support important digital resources, reference services, emerging technologies, vital information literacy instruction, and rare collections unique to the University of Maryland. Whether you support our efforts financially, or through advocacy, you play a vital role in the Libraries mission to provide outstanding services, and resources necessary for research, teaching, and learning for every UMD student and faculty member.
University of Maryland students and faculty depend on gifts that support the Libraries. Your gift can make a difference for every student and faculty member on campus.
Priorities for the Dean of Libraries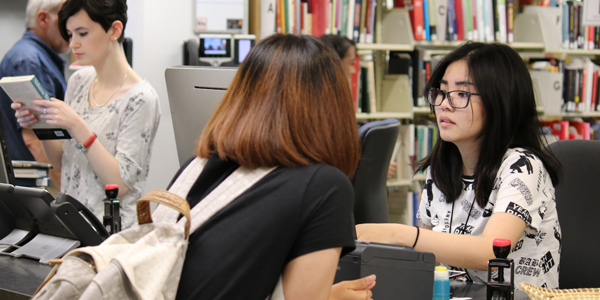 Library Student Workforce Fund
The Library Student Workforce Fund will subsidize employment expenses related to UMD students who assist with routine library operations and provision of services. This may include supplementing the Libraries' student assistant budget, training expenses, and costs for student assistant mentoring and recognition programs.   
Collections and Content Enrichment Fund
In an average year, University of Maryland Libraries' 65 faculty librarians teach information literacy skills to more than 20,000 students to ensure they can navigate their way through the complex scholarly resources - including more than 350 databases, 500,000 e-journals, 6 million e-books, and many other information resources essential for teaching, learning, and research.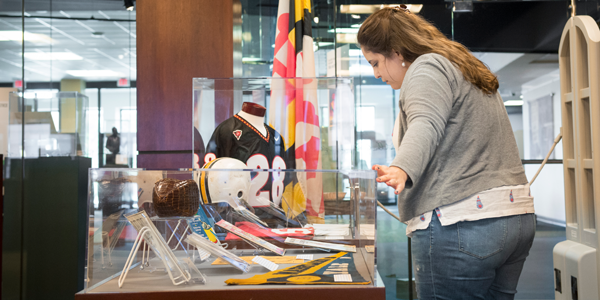 UMD Libraries' Special Collections Gift Fund
From the University Archives to rare and historical manuscripts, the Libraries' Special Collections are one of the premier resources to study all aspects of Maryland and beyond. Your donation helps Special Collections continue to provide access to these important materials, arrange for critical preservation projects, and build the collections in meaningful ways.