The StoRI Lab: Storytelling and Research Innovation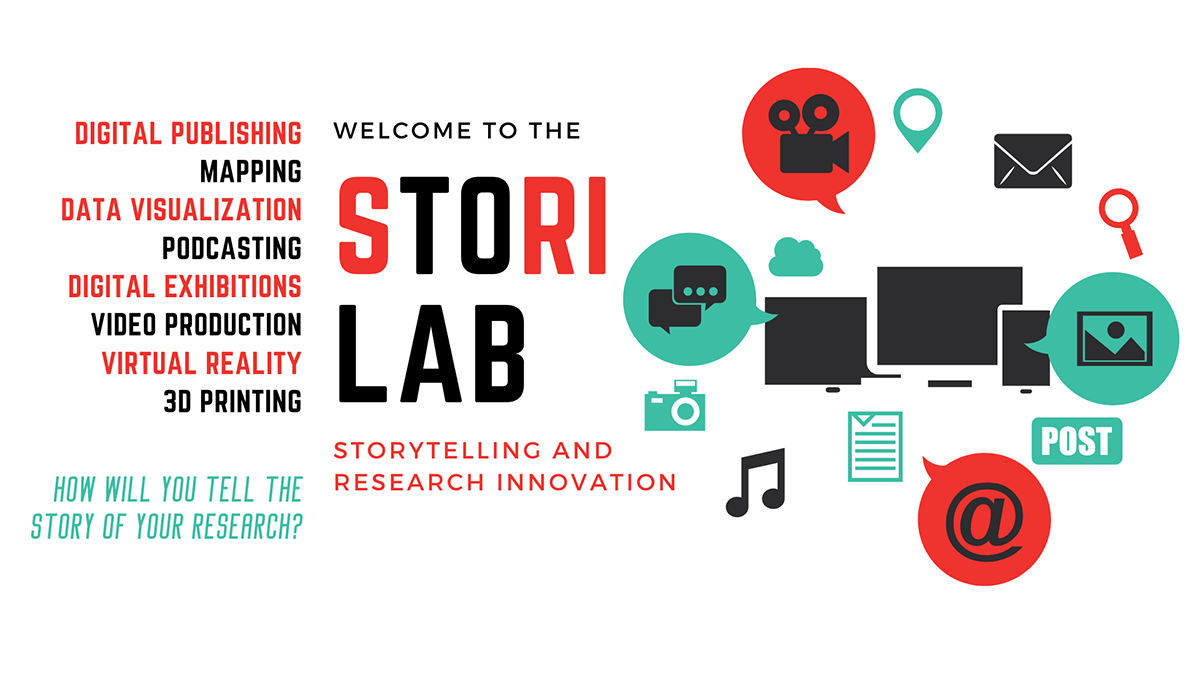 UMD Libraries are excited to announce the development of the StoRI Lab in McKeldin Library. The StoRI Lab (Storytelling and Research Innovation) will be a hub for research education connecting all University of Maryland researchers across campus to educational experiences and technologies that facilitate interdisciplinary explorations into innovative scholarly communications and research storytelling.
The StoRI Lab centers the UMD Libraries as the place where researchers begin explorations into novel forms of research storytelling, are directed to resources across campus, and return to publish their work. Through our message and programming, we emphasize the vital role that the Libraries have always played in the research lifecycle while leading the campus along the leading edge of scholarly explorations and publishing using digital technologies.
What will happen in the StoRI Lab?
Key to the success of the StoRI Lab's mission will be a thoughtfully designed research education program, overseen jointly by the Heads of Open Scholarship Services and Research Education. Although there will be some capacity for reserving and using space in the Lab for students and faculty who are engaged in communities of practice or other ongoing activities based in the Lab, most community members will utilize the space during programming hours in the context of supervised instruction or other facilitated events. This will help to define the space as a one in which the community's exploration of digital scholarship technologies is mediated and ensure that despite the range of activities and technologies that will be encountered in this space, the central mission of storytelling and powering new modes of communicating research will be a unifying force. We currently plan to design programming around two forms of educational engagement:

Hands-on Learning
Workshops: drop in, by registration, and designed for curricular classes, campus communities, and other groups
Hands-on open houses and technology roadshows 
Drop-in hours and 1-1 consultations
Workstations are reservable during staffed hours if not in use for other programs
Communities of Practice
Extracurricular clubs for students and faculty
Open lectures, guest speakers, and public special events
Exhibitions
Many of these technologies or services exist in other place on campus. Why should they exist here too?
Many digital scholarship and research storytelling services already exist within the Libraries but are currently hidden from many patrons. The StoRI Lab helps us to highlight valuable existing resources and expertise we already have
Many technologies are associated with certain disciplines or are housed in disciplinary spaces
Some strategic "duplication" is a benefit! We can work to make sure what is available on the front lines in the StoRI Lab mirrors tech in other locations around campus, setting students up to utilize those resources and bringing tech and instructors from other locations into this space to teach and collaborate
Stay tuned for more information about the StoRI Lab in the 2023-2024 academic year!