Collaborative Archive & Data Research Environment (CADRE)
As of summer 2020, UMD has access to CADRE, a sustainable, affordable, and standardized text- and data-mining service for licensed big datasets.  At this time, the biggest datasets are from Microsoft Academic Graph, Web of Science, and the U.S. Patent and Trademark Office.
With CADRE, users will be able to query data with a fast, user-friendly GUI (graphical user interface) query-builder and analyze results with data-analysis tools others have created, as well as code their own results. Users can also reproduce their work, including research, data-analysis tools, and query results.
Getting Started
To get started with CADRE, visit this link.  To access CADRE, be sure to click on the cilogon icon (as pictured below) and select University of Maryland College Park to begin: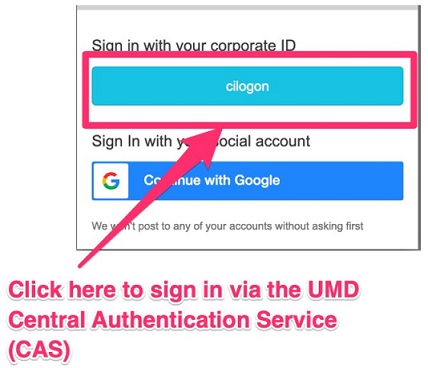 Contact us:
Designated Representative
Yishan Ding
Statistical Consulting GA
 lib-statsconsulting@umd.edu