Check Broken Links
Here are two ways to check broken links. 
The Quality Assurance section in SiteImprove: The system gives you a list of broken links on many pages. You can choose to view only the pages in your department or team.
Check My Links, a Chrome Extension. You can check broken links one page a time. It only takes a minute to install and a few seconds to show the result.
Quality Assurance in SiteImprove
Here are the simple steps after you log into SiteImprove
On the dashboard (on the left panel), choose Quality Assurance > Links > Pages with broken links (See screenshot below).
Right below the Siteimprove Logo (top middle area), choose your group. 
Click the page you want to work on. The page view will show you the broken links on that page. 
To fix the problem, please go to Hippo CMS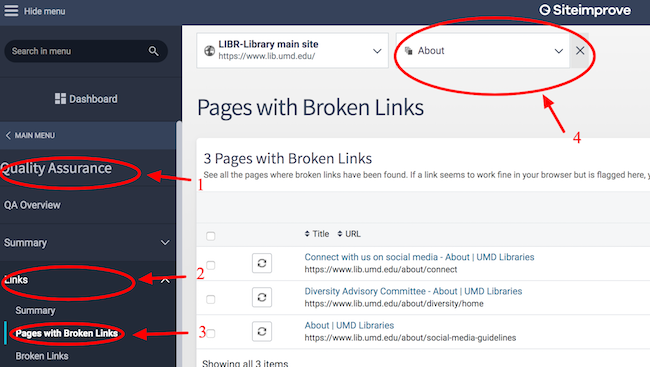 Check My Links - a Chrome Extension
Here are the simple steps:
Install the extension. Open your Chrome browser, add an extension at Chrome Web Store
After installation, a small Checkmark icon appears at the top right corner of your browser.
Go to a page you'd like to check for broken links, click that Checkmark icon. See screenshot below.
All broken links will turn red on your page. Hope you see a lot of green.