Katherine Anne Porter Room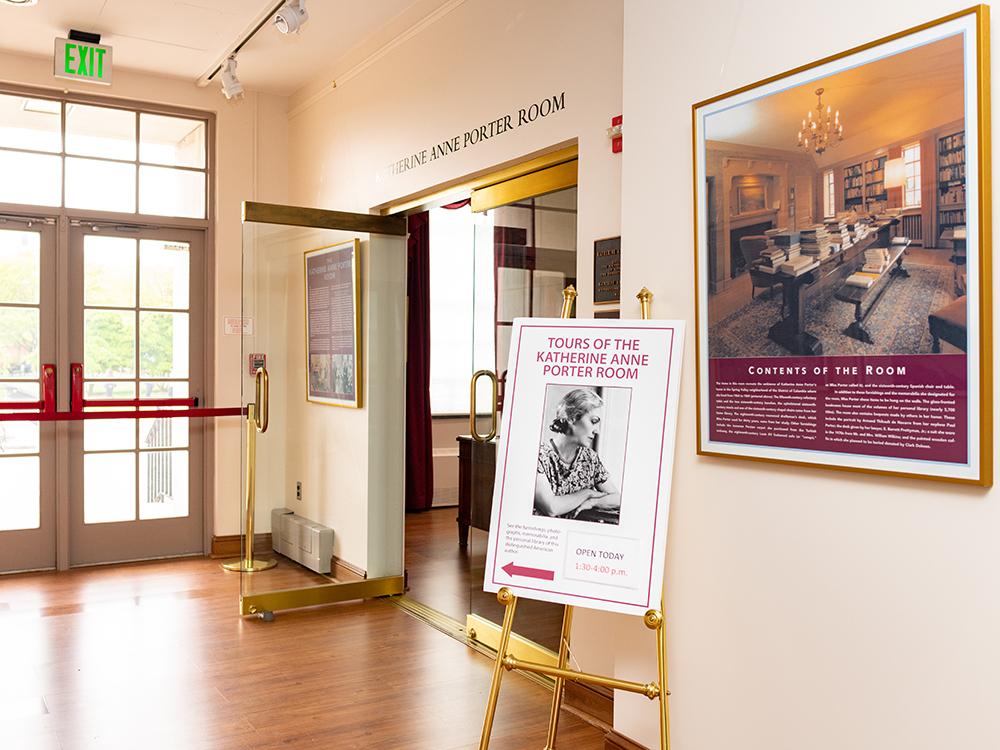 Open by appointment, free to the public.
Location: 1216 Hornbake Library
Hours: open by appointment, contact us for more information.
About the Porter Room
The Katherine Anne Porter Room was established in 1968 by the University of Maryland in appreciation of the generosity and interest of distinguished Modernist American author Katherine Anne Porter (1890-1980).  Porter is known primarily for her short stories and her novel, Ship of Fools, but also published nonfiction. She was awarded a Pulitzer Prize and the National Book Award in 1966 for The Collected Stories of Katherine Anne Porter.  
Shortly after accepting an honorary degree from the University of Maryland in 1966, Porter announced that she would donate her literary archive, personal library, and other personal effects to the University of Maryland, where the Katherine Anne Porter Room was dedicated in McKeldin Library on May 15, 1968. She moved to College Park in 1969, in part to be closer to the university and her papers.
From that time until ill health prevented it, Porter often visited the room to work on her papers. She thought of it as a place where individuals could "view and enjoy her library and furnishings" in an atmosphere that reflected her personal taste and style.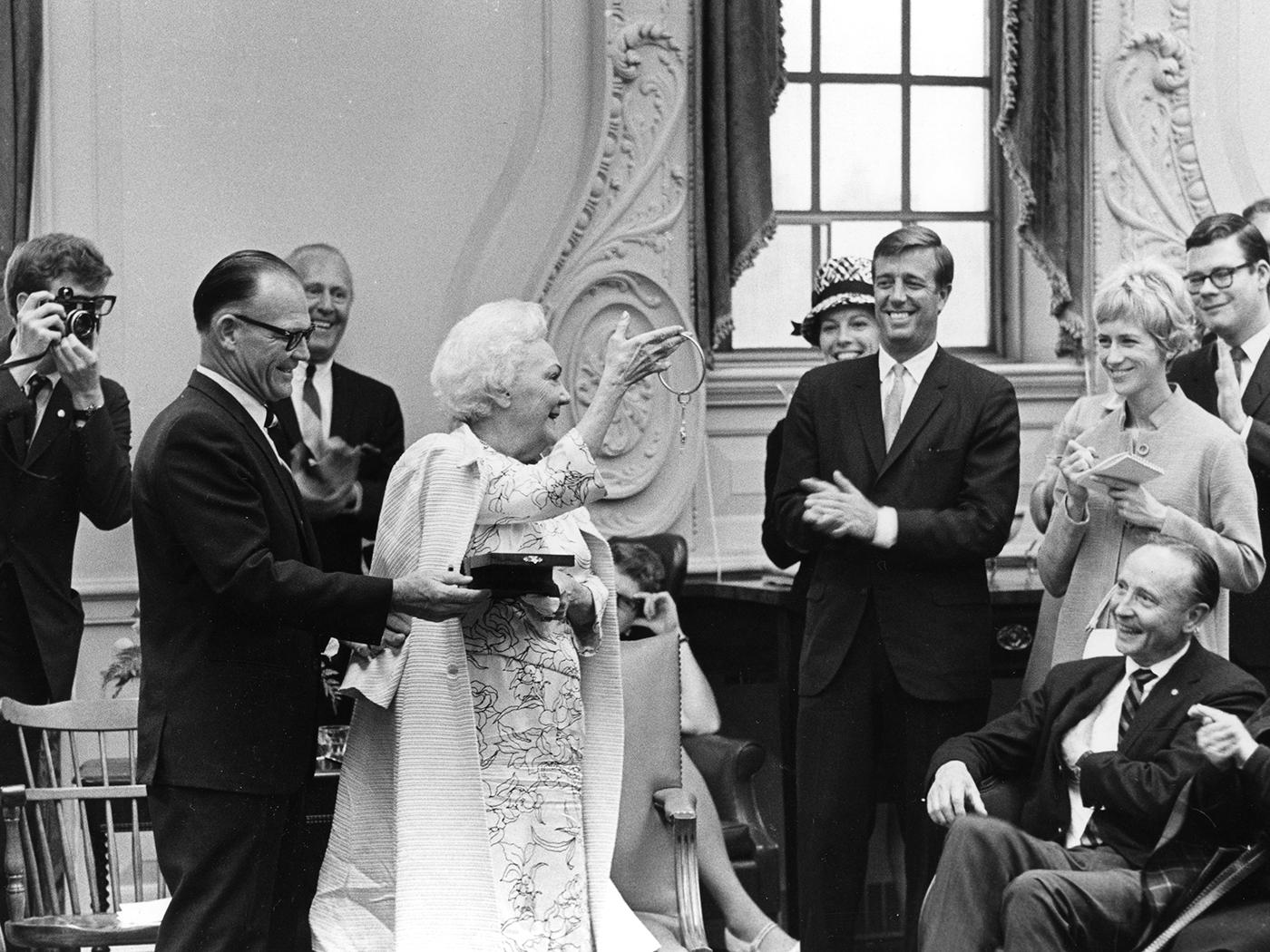 Establishing the Room
The Katherine Anne Porter Room formally opened on May 15, 1968, in McKeldin Library. It came about as a result of the University of Maryland awarding an honorary degree, Doctor of Humane Letters, to Porter in June 1966. The commencement ceremonies at which Porter was to receive this degree took place on June 4, 1966. When Porter, then 76, was unable to attend the event because of illness, University President Wilson Elkins wrote to her and asked if the degree could be awarded at her home in Washington, D.C. In an interview, Porter recounted the details of this occasion:
About twenty-five people piled out and into the house, including faculty members and students. . . . I put on the long robe and we went through the whole ceremony. . . . I was so happy and pleased, and I asked if they would like a little champagne—Moet et Chandon, my favorite. It was one of the most charming things that has happened to me.
The Katherine Anne Porter Room was relocated to Hornbake Library in 2001, where it continues to be open by appointment to the campus community and visiting researchers.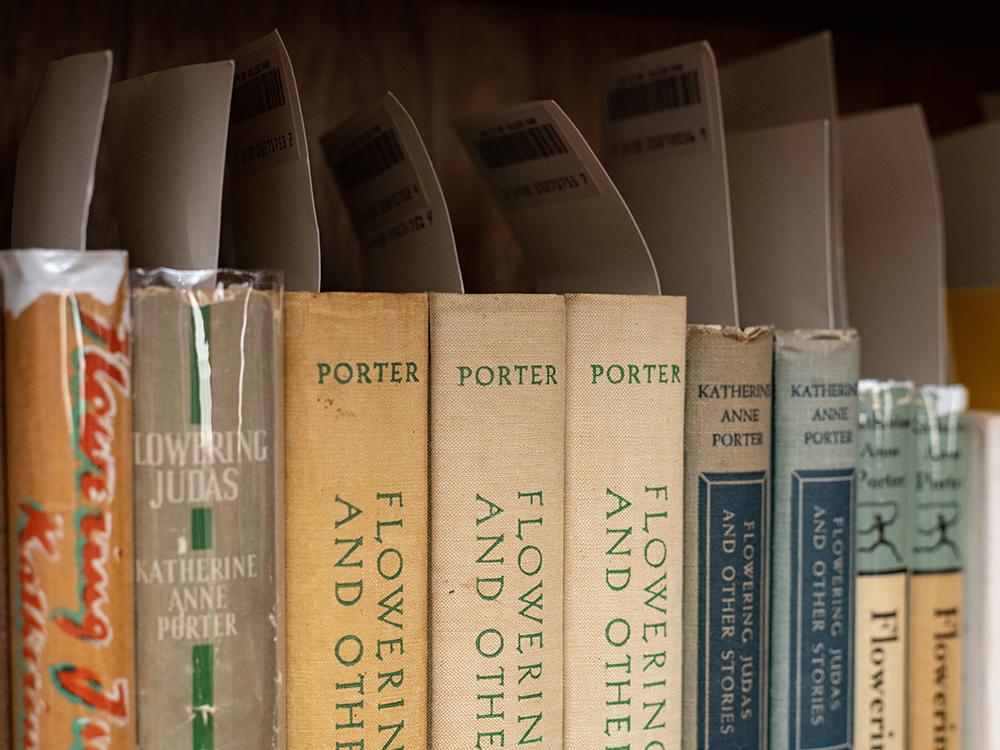 Porter's Archive and Personal Library
In early October 1966, Porter offered her literary archive and personal library to the University. When Porter visited McKeldin Library with Dr. Elkins to discuss the arrangements, he offered to house and provide access to her archive in a room named for her. In a 1976 letter, Porter described this offer.
This was by no means a solemn ritual vow but was in a light pleasant conversation we were having as we looked at the letters over the entrance and for me a promise of a kind of perpetuity of friendship and I have certain very tender sensibilities about this room. . . . It contains at least half of my life in record form.
The finding aid for the Katherine Anne Porter papers, which are held in Special Collections and University Archives in the University of Maryland Library, provides a detailed listing of the correspondence, notes and drafts for her works, publications, legal documents, and financial records in the collection. The Katherine Anne Porter papers are freely accessible to the UMD campus community and visiting researchers. 
A portion of her outgoing correspondence has been digitized and made available online in Katherine Anne Porter: Correspondence from the Archives, 1912-1977. 
The research guide Katherine Anne Porter at UMD provides an overview of her archives and additional related collections held in Special Collections and University Archives.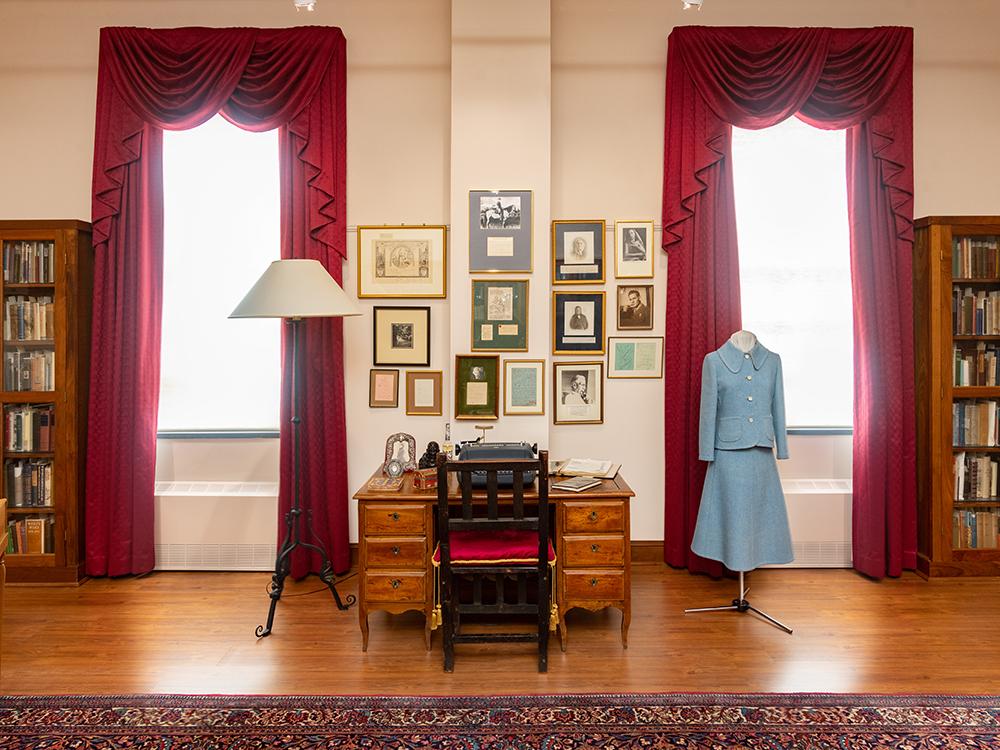 Furnishings and Memorabilia
Porter added furnishings from her home and memorabilia to her bequest as well as personally chose the items to be displayed on the walls. These items, many of which are on display in the room today, recreate the ambiance of her home in the Spring Valley neighborhood of the District of Columbia where Porter lived from 1964 to 1969. 
The fifteenth-century refectory table and the two sixteenth-century benches, the upholstered sixteenth-century stools and one of the sixteenth-century chapel chairs came from her home library. The eighteenth-century rosewood draftsman's desk, which Porter used for thirty years, came from her study. Other furnishings include the immense Oriental carpet she purchased from the Turkish embassy, the eighteenth-century Louis XV fruitwood sofa (or canapé as Porter called it), and the sixteenth-century Spanish chair and table.
The room houses, in glass-fronted bookcases, a portion of the nearly 3,700 titles of her personal library. The room also contains bequests made by others in her honor: these include the portrait by Armand Thibault de Navarre from her nephew Paul Porter; the desk given by her lawyer, E. Barrett Prettyman, Jr.; a suit she wore in the 1970s from Mr. and Mrs. William Wilkins; and the painted wooden coffin in which she planned to be buried donated by Clark Dobson.