UMD Libraries announce the recipients of the 2022 Library Awards for Undergraduate Research and the IDEA Award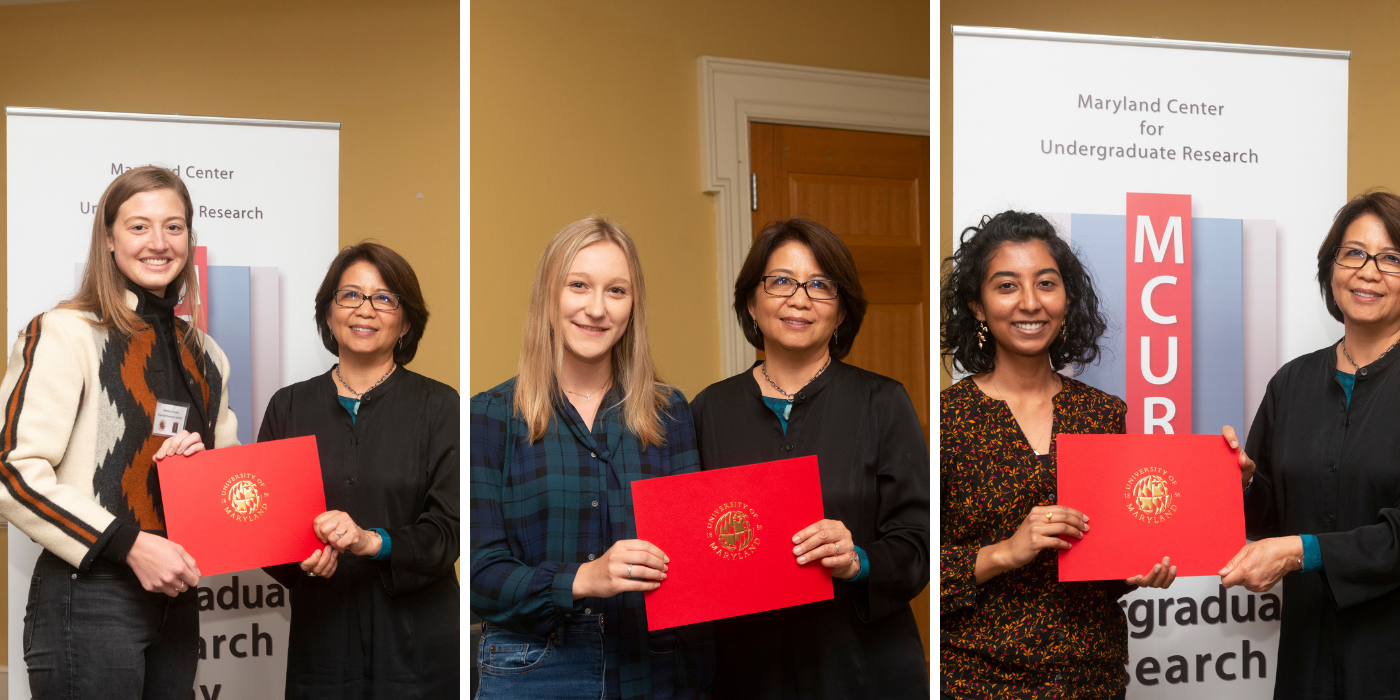 The University of Maryland Libraries are pleased to announce the recipients of the 2022 Library Awards for Undergraduate Research. This year's awardees are Linette Kingston, Lauren Krauskopf,  and Karoline Trovato, all in the class of 2022. Emily Eason, also in the class of 2022, is the recipient of the Libraries' award for Inclusion, Diversity, Equity, and Accessibility (IDEA) research.
The Library Award for Undergraduate Research and IDEA Award competition is open to all currently enrolled undergraduates. Each year, awards of $1,000 are issued to up to four undergraduates whose work best demonstrates the value of using library services and information resources in research projects. The IDEA award seeks to recognize and empower students to explore diversity issues, educate themselves, and inspire others to advance social justice by embracing IDEA values in their research.
"Only in its second year, " explains Patricia Cossard, a founding chair of the Awards Committee, "half of all applicants were nominated for the IDEA award, demonstrating that this award has been enthusiastically embraced. This has been a very successful awards program for the past 12 years," adds Cossard. "The addition of this focused award has demonstrated the Libraries' commitment to advancing inclusive excellence."
Emily Eason: 2022 IDEA Award Winner
Eason's award-winning research paper is entitled, "Olde Towne, New Townspeople: An Anthropological Analysis of the LifeStages of 1.5 Generation Latino Immigrants in Gaithersburg, MD" (http://hdl.handle.net/1903/28547).
Eason's paper is a research paper written for the Honors Humanities Keystone project at the University of Maryland. It uses an anthropological research perspective to describe three main stages of life that young 1.5 Generation Latinos in Gaithersburg, Maryland go through on their immigration journey to the United States. This paper discusses survey, interview, and focus group results to tell the largely untold story of Latino immigrants in Gaithersburg in order to shine a light on the younger generation and their growing need for documentation.
"I am honored to receive this award and am very thankful to the selection team for choosing me as a winner for this division of the award!" says Eason. Dr. Christina Getrich, who supported Eason's application, adds "Emily is a committed member of our campus community who has really made a difference during her outstanding undergraduate career. I was quite fortunate to meet her in the midst of a challenging semester of online learning, and it has been an absolute pleasure to see her flourish as she conducted independent research and produced a high-quality keystone paper.  Gaithersburg's Multicultural Affairs Committee found, and greatly enjoyed, Emily's research paper through the Honors Humanities website while researching the city's Hispanic Heritage and asked that she develop the paper into an educational display to present the paper during this year's Hispanic Heritage Month. She has also consulted closely with librarians, specifically Jordan Sly, subject specialist for Anthropology, to see how she may disseminate her research findings to different audiences and is working to publish in an undergraduate journal."  
Linette Kingston: Winner of the 2022 Library Award for Undergraduate Research
Kingston's award-winning paper is entitled, "Surveillance in the United States: From the War on Drugs to the War on Terrorism" (http://hdl.handle.net/1903/28548).
Mass mobilization to reform US society by the state is frequently characterized as a "war." In particular, aspects of war efforts often parallel the very real discourse and approaches taken during the War on Drugs and the War on Terrorism, for example. In this paper Kingston compares the War on Drugs and the War on Terrorism (post-9/11) in terms of the domestic surveillance approaches taken during these periods and examines the disproportionate impacts on communities, in particular, Muslim American ones. She applies the concepts of penalty and the logic of punishment to highlight the focus on increased funding for the police over social service provision, the body politic to analyze whose bodies require surveillance and control, and the criminalization of everyday life to explore the consequences of mass surveillance. She demonstrates, first, that framing these initiatives as "war" portrays citizens differently based on their background; second, that the criminalization of everyday life occurs, though the approaches to surveillance differ; and third, that through  the reliance on punishment as a deterent, policymakers contribute to hypermarginality among Muslim American communities.
Lauren Krauskopf: Winner of the 2022 Library Award for Undergraduate Research
Krauskopf's award-winning paper is entitled, "'Discomfort and Unpleasantness: The Vietnam Antiwar Movement at the Supreme Court" (http://hdl.handle.net/1903/28556).
This submission analyzes the use of the U.S. court system in the Vietnam antiwar movement. Specifically, this paper looks at how activists used the Supreme Court to protect their First Amendment rights to protest. In protecting their rights through the courts, these activists ensured the continued development and growth of the antiwar movement. Legal activism in this way was distinct because it allowed the movement to grow in ways that other forms of protest did not. It also impacted the lives of those not involved in the movement by enhancing their First Amendment rights in ways that protests outside the courtroom never would have been able to.
Karoline Trovato: Winner of the 2022 Library Award for Undergraduate Research
Trovato's award-winning paper is entitled, "'Educate and Empower: An Online Intervention to Improve College Women's Knowledge and Confidence When Communicating in a Romantic Relationship" (http://hdl.handle.net/1903/28549).
Historically, and especially during the covid-19 pandemic, the vast majority of unpaid family care has been provided by women with devastating associated outcomes including lost jobs, increased poverty, and mental health concerns. Notably, equal family work distribution and healthy communication are associated with women's relationship satisfaction and fewer depressive symptoms. The purpose of this study is to create an innovative online intervention to educate college women about family work distribution, effective communication, and the PARTNERS Communication Model (a strategy for healthy communication based on existing literature and developed by Trovato and O'Brien for this intervention). Trovato conducted a randomized controlled trial to evaluate the efficacy of the video intervention.  Ultimately, the goal of this intervention is to increase future relationship satisfaction, reduce depression, and equalize family work distribution for women.
Members of the 2022 Awards Jury were Patricia Kosco Cossard, Chair, and Art/Sociology Librarian; Kana Jenkins, Curator, Prange Collection & Librarian for East Asian Studies; Katy Lawly, Senior Lecturer, College of Information Studies; Eric Lindquist, History, American Studies, Classics, and Religion Librarian; Celina McDonald, Government Documents & Criminology Librarian; and Jordan Sly, Anthropology, Psychology, Philosophy, and SLLC Librarian.