UMD Libraries announce the recipients of the 2023 Library Awards for Undergraduate Research and the IDEA Award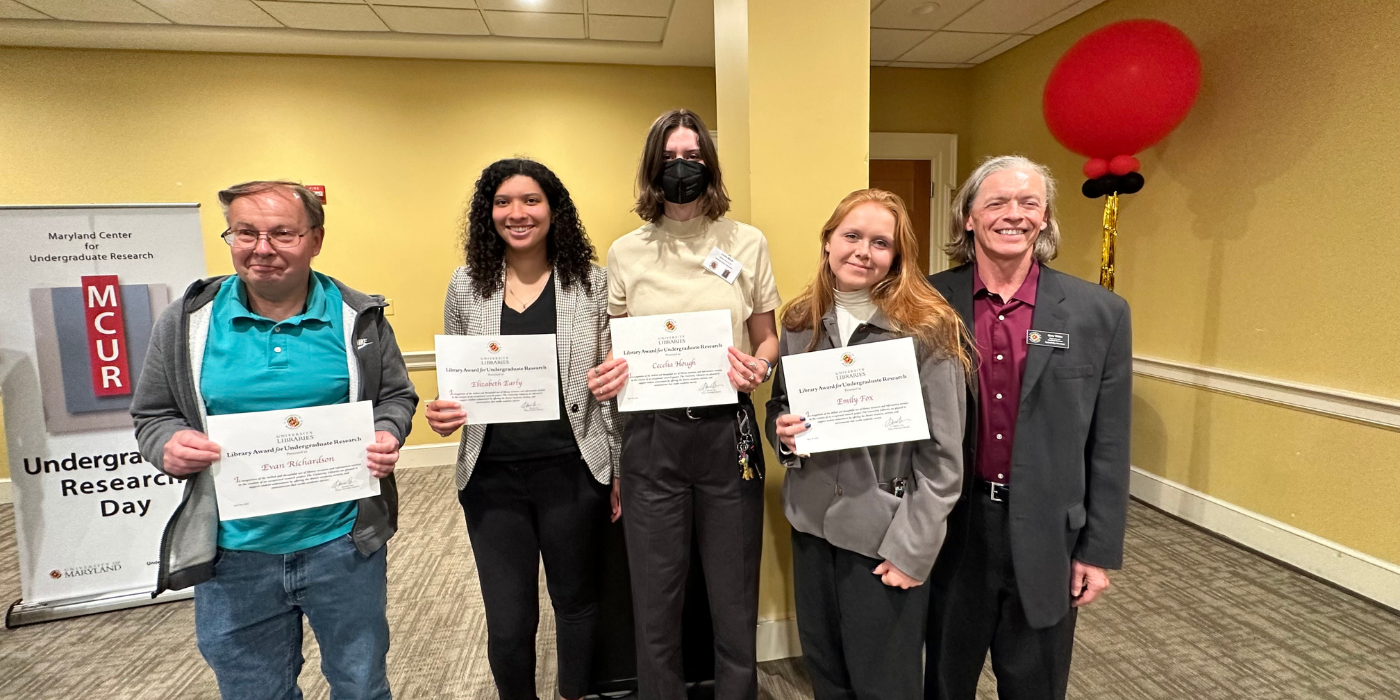 The University of Maryland Libraries are pleased to announce the recipients of the 2023 Library Awards for Undergraduate Research. This year's awardees are Emily Fox, Cecelia Hough, and Evan Richardson all in the class of 2023 and majoring in History. Elizabeth Early, also in the class of 2023 and a History major, is the recipient of the Libraries' award for Inclusion, Diversity, Equity, and Accessibility (IDEA) research.
The Library Award for Undergraduate Research and IDEA Award competition is open to all currently enrolled undergraduates. Each year, awards of $1,000 are issued to up to four undergraduates whose work best demonstrates the value of using library services and information resources in research projects. The IDEA award seeks to recognize and empower students to explore diversity issues, educate themselves, and inspire others to advance social justice by embracing IDEA values in their research.
Elizabeth Early: 2023 IDEA Award Winner
Early's award-winning research paper is entitled, "A Quest for the Truth:" An Analysis of the Background and Context behind the Southern University Slave Narrative Project and the WPA Slave Narrative Project" (http://hdl.handle.net/1903/29751).
Early's paper is a research done for paper written for the History Honors Thesis program at the University of Maryland. Her thesis analyzes the two Great Depression Era efforts to interview the survivors of slavery: (1) Work's Progress Administration's (WPA) and (2) the Southern University's (SUSNP) slave narrative projects.   The WPA project, while created to provide economic relief to educated Black Americans, actually presented narratives written in racially stereotypical and derogatory prose, with survivors of frequently expressing how
much they enjoyed their days of enslavement! Early questioned the veracity of those reports. She subsequently found the SUSNP's project that sought to dispel the popular and misleading 'contented slave argument' through their own interviews.
Dr. Richard Bell, who supported Early's application, writes "Few scholars have examined the SUSNP and none, to my knowledge, have analyzed the relationship between these two overlapping initiatives to interview survivors of American slavery. Early's honors thesis is thus highly original and is likely to spark further scholarly interest in the SUSNP and its relationship to the WPA. The resulting thesis is a polished and thorough piece of scholarship that marks the emergence of a mature and sophisticated young historian. We in the Department of History are proud to count her among our own." 
Emily Fox: Winner of the 2023 Library Award for Undergraduate Research
Fox's award-winning paper is entitled, "Toward a People's History of the University of Maryland: AFSCME Local 1072."  (http://hdl.handle.net/1903/29752).
Emily's paper was written for her capstone senior research seminar.  This paper covers the history of how workers at the University of Maryland, College Park won collective bargaining rights on campus through their union, AFSCME Local 1072. Starting in the late 1960s, UMCP campus workers, including housekeepers, dining service workers, and maintenance workers began to organize despite racial divisions on campus. An opportune political moment, along with strategies associated with the 9-to-5 movement to bring in clerical workers was what established AFSCME on campus as workers' exclusive bargaining representative after nearly 50 years of organizing.
Emily writes, "Extensive information about UMCP labor history is stored at the University of Maryland Special Collections at Hornbake Library. Gathering this evidence was the most important part of my research process, because secondary scholarship about public employee organizing is limited – much less scholarship about workers at UMCP."
Dr. Katarina Keane, who supported Fox's application, writes "I found her work to be most impressive, both in its analytical contributions and in its deep historical research. Emily's research paper was a model of historical scholarship. It was rooted in primary sources (both archival collections and newspaper collections) and spoke to key debates in the field. I believe her work is worthy of recognition by the Library. "
Cecelia Hough: Winner of the 2023 Library Award for Undergraduate Research
Hough's award-winning paper is entitled, "'Homosexual Investigations: The CIA's Contribution to the Lavender Scare from the 1950s to the 1980s" (http://hdl.handle.net/1903/29755).
Cecelia's essay was written for a capstone research seminar—HIST 408F "State Secrets: Writing the
History of the Central Intelligence Agency."  It analyzes why and how the CIA participated in the "Lavender Scare," specifically why and how they discriminated against gay andlesbian employees from the 1950s to the 1980s. The CIA discriminated against gay and lesbian employees because they feared that they could be blackmailed into revealing United States secrets and that they were unreliable and immoral. This justification remained largely the same from the 1950s to the 1980s. Additionally, they were able to discriminate against gay and lesbian individuals for longer than other agencies and departments of the federal government. This is because of their extensive use of polygraph examinations, or lie detector tests, as well as the lack of both internal regulations from the CIA itself, and external regulations from areas like the U.S. government. It's important to remember this history of CIA discrimination given their recent hiring campaign targeted at LGBTQ+ individuals. This research aims to contribute to the historiography on the Lavender Scare, and specifically the CIA's involvement in it, both of which are under-discussed.
Dr. Colleen Woods, Hough's advisor says, "Cecelia dug deep into the CIA's online archive—the Freedom of Information Act Electronic Reading Room, also known as CREST or the CIA Records Search Tool. Including over 11 million pages of declassified documents CREST is an expansive online archive, but is also notoriously difficult to navigate and not user-friendly. Cecelia took on the challenge with gusto and it paid off; she uncovered dozens of internal CIA memos, news clippings, court cases, and CIA responses to Congressional Hearings that revealed how, over the course of four decades, the CIA used a hiring practice that purposively excluded "homosexuals" from employment." Woods continues, "this essay makes an original and significant contribution to what historians know about the CIA, the "Lavender Scare," and the impact CIA discriminatory hiring practices had on the lives of LGBTQ+ individuals."
Hough writes, "The most important thing I learned was how crucial it is to pick a topic I was genuinely interested in, which made it fun. The lessons I learned from this research journey will have prepared me for my goal of returning to get my master's degree and pursuing my desired career of working as a professional historian doing research or working in a museum or archive." 
Evan Robertson: Winner of the 2023 Library Award for Undergraduate Research
Also written for a capstone senior seminar, Robertson's award-winning paper is entitled, "Getting from Sesame Street to Sesamstrasse: The Development of Sesame Street's International Adaptations, 1970-1978."  (http://hdl.handle.net/1903/29756)
It looks at the American children's television show Sesame Street and its international adaptations in the early 1970s, tracing the development of a iterative model of co-production that sought ever-greater collaboration between the Children's Television Workshop and native producers and educators. Through adaptation, Sesame Street proliferated into many nationally unique programs within the umbrella of the original program, emphasizing the benefits of adaptation against an imperialist model of cultural diffusion. A narrative not present in extant historiography, the coproduction model provides a valuable case study into intentioned cultural adaptation, pointing to a successful model for education and for television production.
Richardson comments, "My paper  would not have been possible without the use of the University of Maryland's archival holdings. I found mention of an unusual event – the BBC's banning of Sesame Street. I was able to find material about the international versions of Sesame Street. There, I found a discussion of the "Open Sesame" model, which was a unique stage of development in which versions of the show for international broadcasting were stripped of American elements and intended to be culturally neutral. The reason for implementating the "Open Sesame"model was a result of the aforementioned BBC ban."
Dr. Katarina Keane, his application's supporter, states, "Evan's research unearthed an evolving and contested relationship between the Children's Television Workshop (CTW)--the American producers of Sesame Street–and broadcasters, regulators, and audiences in Europe and Latin America.  Diving into the archival collections held by the University of Maryland's Broadcasting Archives, Evan developed a research paper based on extensive use of largely unexamined primary sources. While other scholars have used the CTW papers, few have considered the period Evan covered or the international adaptions that Evan discussed. The UMD Libraries' collections served as the foundation for his contribution to scholarly communication.
---
Members of the 2023 Awards Jury were Patricia Kosco Cossard, Chair, and Program Administrator for Research Development and Special Collections Librarian, University Libraries; Katy Lawly, Senior Lecturer and Faculty Director, Master of Information Management (MIM), CPIM, CIRPS, College of Information Studies; Jordan Sly, Head of Humanities and Social Science Librarians, Anthropology, Philosophy, Religious Studies, Digital Humanities, and SLLC Librarian for German, Italian and French Studies, University Libraries; and Nedelina Tchangalova, Public Health Librarian, University Libraries.