Reading out loud and proud
UMD Libraries hosts first drag storytime event celebrating UMD Pride Month.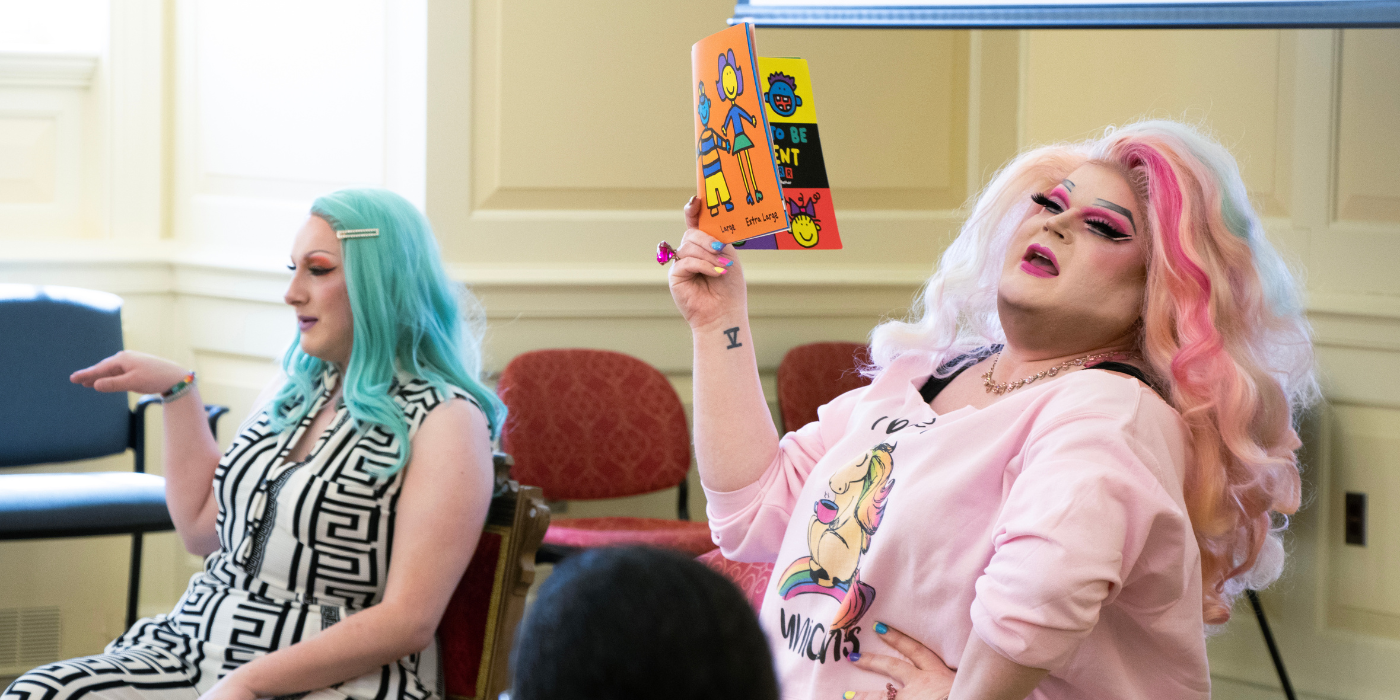 "It's okay to be different. You are special and important just because of who you are."
from "It's Okay to be Different" by Todd Parr
Celebrating differences  was a key theme throughout the Libraries' first-ever Storytime in Drag event on Monday, April 24. Students, faculty, and staff gathered in McKeldin Library to celebrate the university's recognition of Pride Month with performers D'Manda Martini and Bella Naughty, who read from banned children's books (see list below) as well as other books featuring LGBTQ+ affirming themes.
The performers did more than entertain the audience with their readings. They shared experiences from their own lives and discussed the current climate for drag performances in the US. Though it seems obvious that, as professional performers, D'manda Martini and Bella Naughty tailor what they wear and what they say to the audience of each event, they mentioned that people protesting drag events don't seem to recognize that. They talked about how reading these stories help children build empathy for other people—a positive outcome that radiates through communities.
"At the Libraries, we're committed to providing engaging and accessible programs, services, and resources for the campus community and beyond," said Nneka Chisholm, UMD Libraries' Diversity, Equity, and Inclusion Officer and co-chair of the Libraries IDEA Committee (Inclusion, Diversity, Equity and Accessibility). "Events like Storytime in Drag  foster a welcoming space for learning and growing, while being authentic."
This event created a space to share ideas broadly, furthering the Libraries values of democratization, stewardship, empathy, bravery, and transformation. More banned and challenged books were on display and available for attendees to borrow.
Drag Storytime Reading list:
"This Day in June"
Written by Gayle E. Pitman and illustrated by Kristyna Litten
"I am Jazz"
Written by Jessica Herthel and Jazz Jennings and illustrated by Shelagh McNicholas
"Prince and Knight"
Written by Daniel Haack and illustrated by Stevie Lewis
"Julian is a Mermaid"
Written and illustrated by Jessica Love
"Love Makes a Family"
Written and illustrated by Sophie Beer
"It's Okay to be Different"
Written and illustrated by Todd Parr
"My Awesome Brother: A children's book about transgender acceptance"
Written by Lise Frances
"The Hips on the Drag Queen Go Swish Swish Swish"
Written by Lil Miss Hot Mess and illustrated by Olga de Dios
"It Feels Good to Be Yourself: a Book About Gender Identity"
Written by Theresa Thorn and illustrated by Noah Grigni
"Mary Had a Little Glam"
Written by Tammi Sauer and illustrated by Vanessa Brantley-Newton