STEAM Salon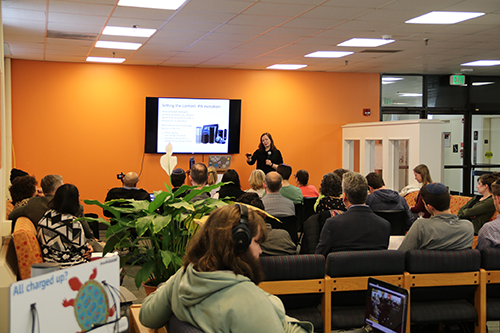 The mission of STEAM Salon is to provide a platform that centers the work of emerging researchers, faculty, and students at the intersection of Science, Technology, Engineering, Art, and Mathematics. STEAM Salons enrich the intellectual and cultural life of our community through engaged conversation and shared ideas. We offer an inclusive space for developing researchers, faculty, and students to grow as professionals and to connect with a broad campus audience.
STEAM Salon is an informal series presented by the Libraries' Research Education Program and hosted by the STEM Library.
Proposals and Nominations
We highly encourage faculty mentor nominations and student proposals for future STEAM Salon presentations. We accept proposals and nominations on an ongoing basis.
Accessibility
At the University Libraries, we strive to present inclusive events that enable all individuals, including those with disabilities, to fully participate. To request an accommodation or for inquiries about accessibility, please contact us at lib-rc@umd.edu.