What We Offer
At John and Stella Graves Makerspace, we currently have three 3D printers up and running:
Prusa i3 MK3S+ 
Creality Ender-5 S1
Bambu Lab X1-Carbon
In addition to the 3D printers, we also make a wide variety of materials in various colors available to patrons for printing their projects, such as PLA, ABS, PET-G and nylon.
---
Want to get a part 3D printed?
Send your part our way, and one of our staff members will print it the way you want! Once the print is complete, you can pick it up at the STEM Library services desk.
We no longer charge for this service. However, we will be setting a maximum print time of 12 hours per print.
Requests for 3D printing are done on a first-come, first-serve basis. Because of many unpredictable variables, we cannot make guarantees on turnaround time. Please take this into consideration if you have a tight deadline. 
If your print request requires supports, our Makerspace Technicians do not remove them once your print is completed. However, you are welcome to stop by the Makerspace during open hours and utilize the tools in our space to remove the supports from your print. 
Ready to print? Fill out our 3D Print Request Form to get started.
Submit Print Request
Our patrons have the ability to cut, engrave and score with our Glowforge Plus laser cutter.
Glowforge can cut wood, fabric, leather, paper, Plexiglas (acrylic), Delrin (acetal), mylar, rubber, Corian, foods, and more. Glowforge can also engrave all of the above plus glass, coated metal, marble, anodized aluminum, titanium, some phones, tablets, and laptops, and more.
Makerspace also makes certain Proofgrade materials available to patrons for their laser cutting projects.
Immerse yourself in unique educational experiences with our virtual reality (VR) headsets.
Currently, we offer two Meta Quest 2 VR headsets for patrons to borrow at the Makerspace. Patrons can check out one of the headsets for 7 days at a time, and take home the ability to explore different realities.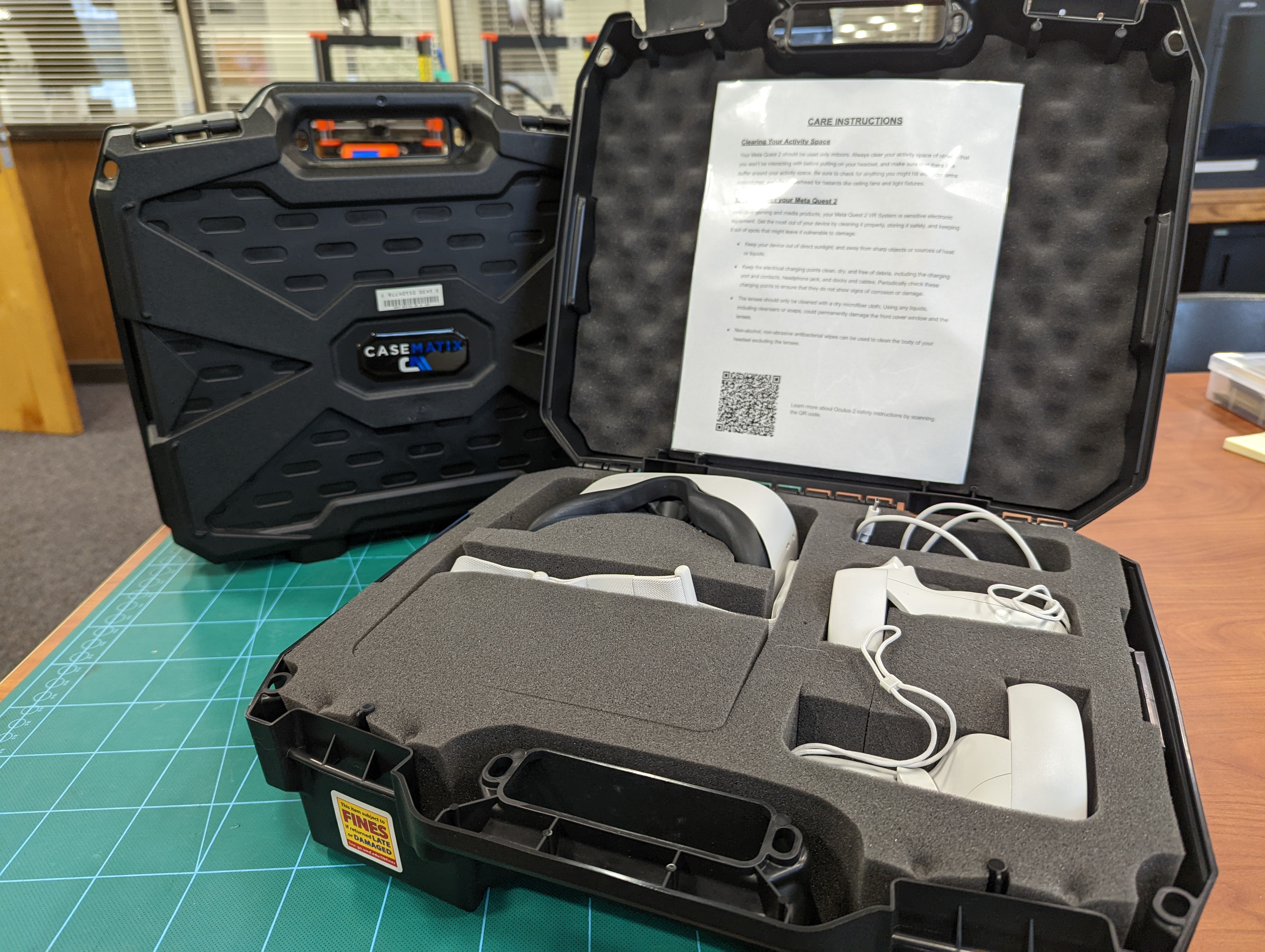 STEM library, in partnership with Terrapin Works in the James A. Clark School of Engineering, also provides loanable tool kits which students can check out and use for projects on the go. These kits can be checked out from the STEM Library Circulation Desk for up to three days at a time. 
Types of kits that are available are: 
Electronics: Soldering iron, Multimeter, Helping Hands, Wiring, Breadboard and more.
Fastening: Screw Drivers, C-Clamps, Hot-Glue Gun, Tape Measure, Combination Square and more.
Woodworking: Hammer, Mini Hacksaw, Scribing Compass, Torpedo Level, Files and more
General Engineering: Screw Drivers, Files, Mini Pliers, Rachet Set, Hot Glue Gun and more.
.         
The Augmented Reality (AR) Sandbox is an interactive box of sand, connected to an XBox Kinect and projector. Faculty and students can use it for a variety of activities including modeling topographic maps, exploring hydrologic systems, and demonstrating geomorphology principles.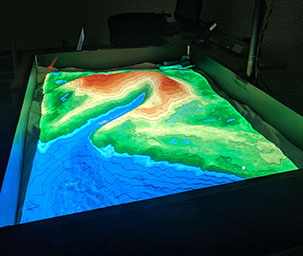 Express your creative side with our 1" Button Maker. Print/draw your own design, use a sticker, or upcycle magazines and newspapers. Quick and easy to use, our button maker does not require a reservation and is available whenever the JSG Makerspace is open.