UMD Libraries Lay Strong Foundation for Innovative reACT House
UMD Libraries to play an instrumental role in the 2022-23 interdisciplinary curriculum program "Decolonizing Education to Meet the Demand of Climate Change: resilient Adaptive Climate Technology (reACT) Testbed Lab."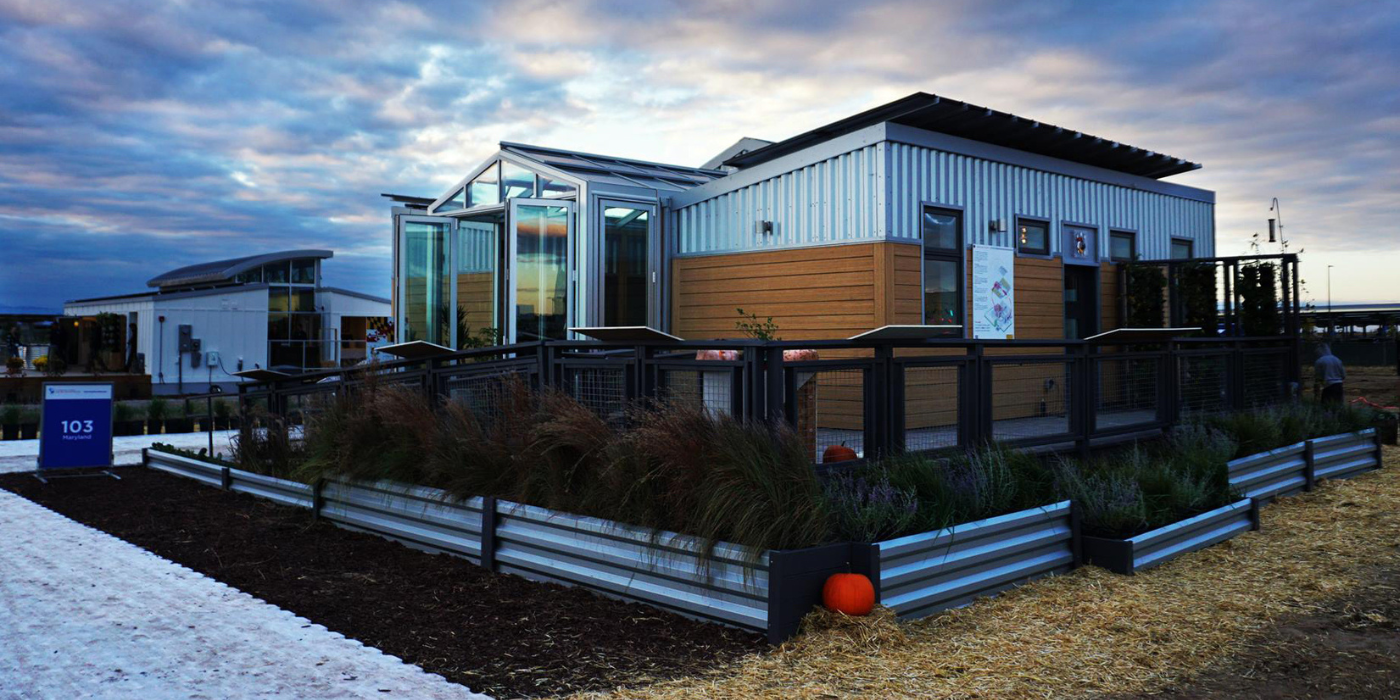 The Libraries are proud to play an instrumental role in the 2022-23 interdisciplinary curriculum program "Decolonizing Education to Meet the Demand of Climate Change: resilient Adaptive Climate Technology (reACT) Testbed Lab." Over the course of one year, students from across seven departments, from Education to Architecture, will work collaboratively on an architecture and engineering project that's guided by indigenous knowledge in order to live more sustainably in the face of climate change.
The project began at the 2017 international Solar Decathlon, when UMD placed second overall with reACT house—a modular, sustainable residential structure adaptive to any climate. Crucially, it was designed with guidance from Nanticoke and Maryland tribal traditions, such as living in harmony with the environment and always thinking seven generations in the future.
The project is entering a new phase thanks to a 2022 Experiential Learning Grant from the Teaching & Learning Transformation Center, which was awarded to projects that explored a "grand challenge" of our time, such as climate change, and were designed to build a stronger sense of community and civic engagement for students through social justice. Patricia Kosco Cossard, UMD Libraries' Program Administrator for Research Development and Special Collections librarian, is the program's lead Principal Investigator.
For such a sprawling, interdisciplinary program, the Libraries provide a grounding foundation. "The librarian is kind of a bridge between the different disciplines to make higher-level connections and manifest something innovative," says Cossard. One way the Libraries support the curriculum is through an extensive research guide available to students across the constellation of courses. "Decolonizing Education to Meet the Demands of Climate Change" is a diverse bibliography with everything from sustainability to native Maryland history to ethnobotany, or how people of a particular culture and region make use of local plants. "We wanted to provide all the courses with a central place to come and to find out 'What is decolonization? What is indigenous knowledge?'" says Cossard.
Another key role the Libraries has played in the project is data management and archiving. When it comes to a long-term interdisciplinary architecture and engineering project, "There's a lot of knowledge that needs to be stewarded," says Cossard. Everything from the 2017 Solar Decathlon project was meticulously archived in DRUM, which meant that the project could pick up where the competition left off. "We couldn't be doing all of this if we hadn't maintained all of the research data from 2017."
This Fall, students are taking classes like Site Design, Landscape Design, and Renewable Energy, and studying the intersections of regenerative design, native resources (sun, plants, etc.) and sustainability. In the Spring, they'll be studying Adaptive Reuse, Climate Innovations & Justice Through Design Thinking, and Embodied Energy/Life Cycle Analysis, and taking the next steps in the project.
 
Cossard will be leading an MLS field study and Independent Study on decolonizing libraries and archives. The courses provide students with the opportunity to approach topics through indigenous epistemologies, presented through readings and consultation by Francis Gray, Chairman of the Piscataway Conoy Tribe; Rico Newman, Elder of the Choptico Band of Indians; and Kyle Harmon, Nanticoke Indian Association.
Just as the reACT house is resilient and adaptive, so is the curriculum, which will continue even after this current program ends. Once the structure is completed, future cohorts can perform data analysis and experiments on how the building performs in different climates and over time, and their research will be added to a growing compendium of knowledge on architecture and climate resiliency. Curriculum born out of the decolonization and education classes will be taught to new generations who want to also find new ways to build sustainably and in harmony with the environment. The library resource guide will also continue to grow and inform new students and faculty. "Creating new knowledge has a longer life beyond just the classroom," says Cossard.