UMD Libraries Finals Success Guide
Services and resources from the Libraries to help you finish the semester strong.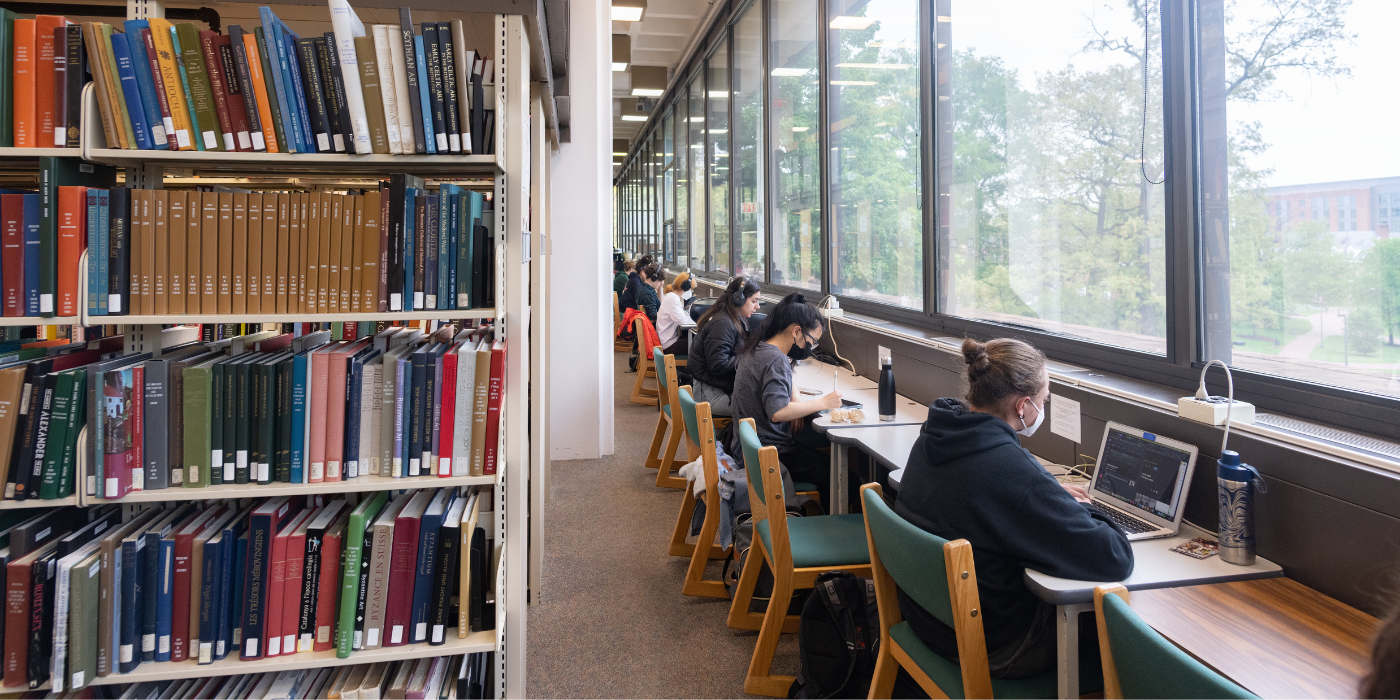 Finals season can be overwhelming for anyone. You've got a lot on your plate, and we're here to help you succeed. Check out some of these library resources and services to help you get through finals season. You've got this.
McKeldin Library Extended Hours for Finals
UMD community members can access McKeldin past closing hours for a safe, reliable place to grind. From December 11 through December 18, McKeldin Library will be open 24 hours a day to help you prepare for finals. Just make sure you have your campus ID with you between 11 p.m. and 8 a.m. Enjoy the quiet and study away!
Database Finder
Use our Database Finder and search by topic, database type and more to help you find the perfect research engine for you!
Citation Tools
We have you covered when it comes to citing your sources for your final projects. Get info on multiple citation styles, citation generators, citation management tools, and get subject-specific assistance from our expert libraries.
Borrow Equipment
Need technology to assist with your final projects? Come to the TLC Tech Desk on McKeldin's second floor, where you can borrow cameras, laptops, calculators and much more. Equipment is also available at the Michelle Smith Performing Arts Library, and the STEM Library.
Need to take a break? We also have fitness equipment, including yoga mats, frisbees, foam rollers, available at McKeldin if you want to take advantage of the warm weather!
Self-publishing, Printing, and Scanning
Do you need to print your final paper or a presentation slide deck? Printers and copiers are available in all six UMD libraries. Easily and affordably print from our computers or yours! Free scanners, including overhead scanners, are also available. Learn more.
Easy poster and specialty printing is available on the 2nd floor of McKeldin Library. Get started.
We also offer lamination, softcover, hardcover and spiral binding services in black-and-white and color! Come to McKeldin's TLC Tech Desk, also on the second floor. If you only have a few things to bind, they can be taken care of while you wait—if you have more, you may need to drop them off and come back later. Check it out.
Find a Study Space
Use our Find a Space tool to help you discover the perfect place to study! Across our libraries, you can find group study rooms, individual spaces, communal areas, a podcasting room, computer rooms and more.
Sort by location, noise level, amenities and more. Find a space that works best for you!
Subject Specialists
We have experts on topics spanning anything from anthropology to women's studies here to assist you. Whatever your needs may be, our experts are here to guide you through your research process.
Our specialists can help you by:
Providing one-on-one research assistance online, in-person, or over the phone
Answering your questions about publishing, copyright issues, and preserving digital works
Helping identify gaps in the literature when you're planning a research project
Wags for Wellness
You'll need to decompress after your finals – and what better way to do that than with some friendly furry friends? We're partnering with the University Health Center to host a Wags for Wellness event at McKeldin Library on Friday, December 15 from 1pm to 3pm. Sign up here, and pet your stress away with some adorable support pups!
Have questions but not sure where to turn?
Ask a library employee through the live chat feature on our website, which is generally available Monday through Thursday from 8am to 9pm, and Friday from 8am to 5pm. We're happy to help with whatever else you may need.