Library Budget
The University Libraries' overall budget covers personnel salaries/benefits, programs, services, operations, technologies, space-related costs, and information resources, including acquisitions, maintenance, and preservation of collections, for the Main Library (McKeldin), Architecture Library, Art Library, Hornbake Library, Michelle Smith Performing Arts Library, Severn Library, and STEM Library. The Priddy Library at the Universities at Shady Grove (USG) operates primarily under the direction and budget of the Executive Director of USG.
Overall Revenue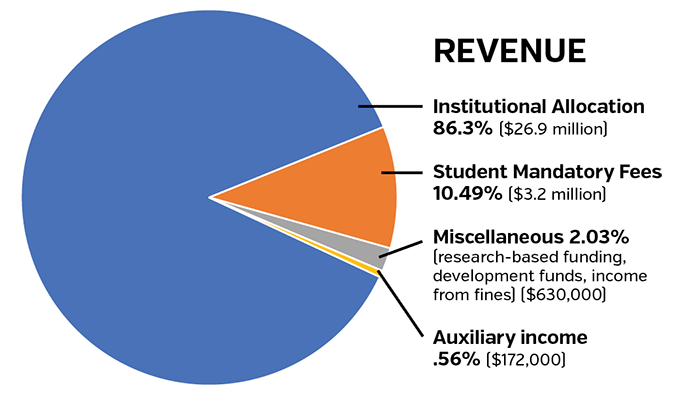 The Libraries' Fiscal Year 2021 (FY 21) budget of approximately $31.03 million is comprised of an institutional allocation of $26.9 million (86.93% of total revenue), student mandatory fees of $3.2 million (10.49%), auxiliary income of $172K (or .56%, mostly derived from the Libraries' fee-based copy/print services), and other miscellaneous allocations of $630K (2.03%, including research-based funding, development funds, and income from fines). The Libraries' institutional allocation is about 5% of the University's state appropriations, which is within the average library investment range for large research institutions. 
Overall Expenditures
Expenditures from the Libraries' FY 21 budget are expected to consist of $16.9 million for personnel salaries, wages, and benefits (or 54.61% of total expenditures), collections and content costs of $10.9 million (35.38%), and non-personnel operational costs of $3.1 million (10.01%).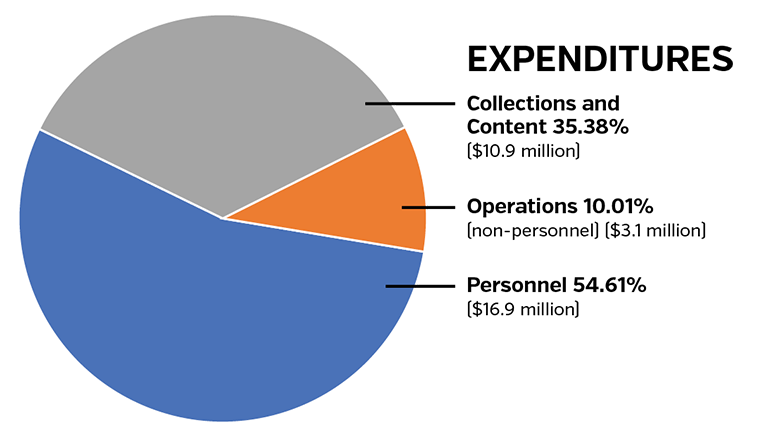 Operations Allocation
After our FY 21 pandemic-related budget reduction of 5% or $731,000, the Libraries' operation allocation totals approximately $13.8 million (not including fringe benefits allocation). All library programs and services, to varying degrees, will be affected by this significant reduction. Cuts are being absorbed through the loss of several vacant positions, including 7 regular staff/faculty positions, 5 contract positions, and 3 graduate assistants. While the elimination of vacant positions enables us to avoid layoffs of current library staff and faculty, the loss of capacity affects several functional areas, including data services, digital services, systems and technology, collections management, information organization, and administration.
Collections and Content Allocation
Access to information resources in a variety of formats and stewardship of unique special collections and primary sources are achieved through the Libraries' collections and content budget. Over 83% of the Libraries' collections budget is devoted to sustaining continuing resources for the campus, which includes major database licenses and journal subscriptions. When we make decisions about spending funds for our general collections, we follow these principles:
Support degree programs commensurate with the level of the degree.
Support faculty research and identify areas of potential interest and purchase resources which meet the needs of new or emerging areas of research.
Evaluate the content of all information resources according to the standards of authority, comprehensiveness, validity, language, time periods and geographical areas presented in the collection development policy subject statements.
Before our pandemic-related budget reduction of 5% in FY21, our collections allocation/budget totaled $11.2 million, with $9.5 million coming from our base budget and $1.7 million coming from students' mandatory fees.  During FY21, we will use one-time library funding of $475,000 to defer cancellations and reductions in collections temporarily, which will give us more time to plan strategically for the necessary reductions in FY 22.
Maximizing Our Spending Capacity
We use a variety of strategies to sustain access, contain costs, and enhance buying power, including working with consortia to obtain group discounts, engaging in intensive negotiations with vendors, and signing multi-year licenses. We actively manage our ongoing subscriptions, adding or removing databases or titles to meet changing needs and maximize value.
We also support open access and actively explore new scholarly communication models that can remove financial barriers and ensure free global access to scholarship. Read about our new UMD PACT group and the Big Ten Academic Alliance's Collective Collection initiatives to learn more about these efforts.
Reducing Information Resources in Fiscal Year 2022
Starting in FY 22, annual spending reductions will be necessary to address not only ongoing inflation increases in the cost of existing subscriptions, but to adjust to pandemic-related budget reductions. Visit our spending reduction page to learn about these cuts to our collection budget and the cancellations that will be necessary in FY 22.