Dr. Adriene Lim to retire as dean of the University of Maryland Libraries, June 2024
A message from the University Libraries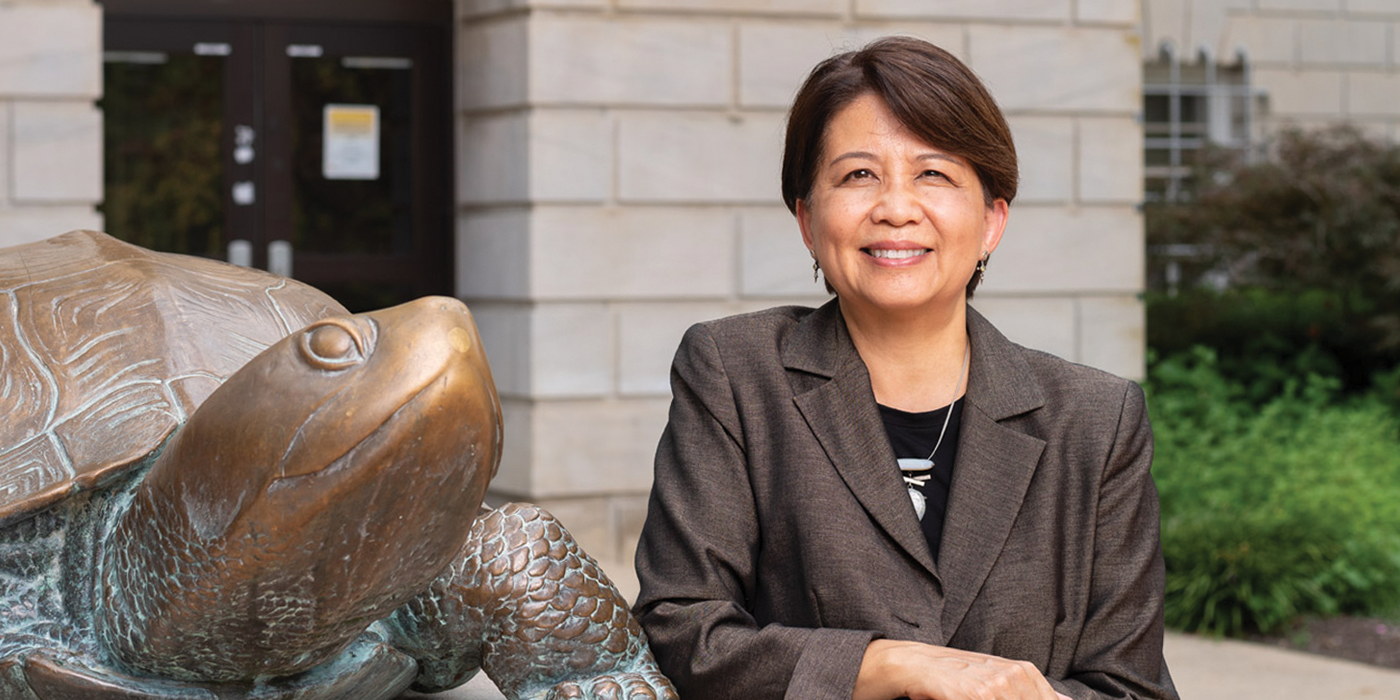 Today, the University of Maryland announced the upcoming retirement of Dr. Adriene Lim, dean of University of Maryland Libraries. In the campus message, Senior Vice President and Provost Jennifer King Rice noted that Dean Lim "has been a tireless leader for the Libraries, helping to achieve the Libraries' substantial goals in the Fearless Ideas fundraising campaign, and demonstrating her commitment to providing outstanding library programs in support of the University community's teaching, learning, and research activities with a deep commitment to diversity, equity, and inclusion." Dr. Lim will remain in her role as dean until June 30, 2024, and then will retire fully in 2025.
Dr. Lim has led important initiatives to achieve more open, equitable, and sustainable models for the creation and sharing of knowledge. She initiated and co-led UMD PACT, a cross-campus group working to advance sustainable, equitable publishing models and promote open scholarship and shared infrastructure, a movement that culminated in the passage of UMD's equitable access policy approved by the University Senate in 2022. Characterized as a "champion for open research" by Provost Rice, Dr. Lim was appointed to serve as UMD's designated lead for the National Academies of Sciences, Engineering, and Medicine (NASEM) Higher Education Leadership Initiative for Open Scholarship (HELIOS).
Dr. Lim led the initiation and improvement of several new service models and programs, including those in collaboration with the Big Ten Academic Alliance's library deans. She initiated the Libraries' new Open Scholarship Services program, the Affordable Course Content @ UMD project, the pilot of TOME@UMD (Toward an Open Monographs Ecosystem), and the new Fisher Family Library Fellowship program. A strong commitment to diversity, equity, and inclusion has been evident in her career-long practice of librarianship scholarship, and research.
Dr. Lim is completing a distinguished career of 28 years in academic and research libraries, most of which have been in senior-level leadership positions, including prior roles as dean of libraries at the University of Oregon and Oakland University, interim university librarian at Portland State University, and head of digital library systems at Wayne State University. She has worked closely with consortium partners nationally and internationally to develop innovative library policies, programs, and collections, as exemplified by her service on the boards of the Association of Research Libraries (ARL), the Greater Western Library Alliance (GWLA), the Pacific Rim Research Libraries (PRRLA), and the Academic Preservation Trust. Dean Lim is now serving as Past Chair for both the Center for Research Libraries (CRL) Board and the University System of Maryland & Affiliated Institutions (USMAI) Council of Library Deans. She currently serves as Vice Chair for ARL's Advocacy and Public Policy Committee and was elected to serve as a Councilor at Large, 2022-2025, for the American Library Association. 
Dr. Lim will remain in her role as Dean of UMD Libraries until a successor is identified. A recruitment process for the next dean will commence this 2023-2024 academic year as described in the campus-level announcement.