Shell-tering in Place
Terp Stories of COVID-19
We find ourselves, along with the rest of our global community, living through a historic event. Never before have we experienced a disaster that so quickly and widely affected such a great number of people in so many different ways -- including every member of the University of Maryland community. Classes were quickly moved online, residence halls closed, sporting events cancelled, research activities halted, all Marylanders ordered to stay at home, and graduation ceremonies for the Class of 2020 will now take place virtually. In ways both big and small, our lives have been transformed. 
Share Your Story
How has COVID-19 affected your life as a student, faculty, staff member, or administrator?
The University Archives, which holds the University's official historical records and documents present-day activities at UMD, invites all members of the UMD community to share their COVID-19 stories to be preserved in the Archives. 
Future generations will be able to access this collection to gain insight into how Terps faced this global crisis thanks to your contributions to this project.
For members of the UMD community, the way we engage with our campus and each other changed rapidly beginning in March 2020. We have all had to adapt quickly and plan for an uncertain future. The impacts of sheltering in place orders have affected students, staff, faculty, and administrators in both different and similar ways. Classes have been moved online, sporting events canceled, professional conference activities canceled or moved online, and commencement and graduation celebrations are being transformed. We are finding new ways to connect. We are finding previously easy things are now difficult. We are anxious and unsure of our future circumstances. 
National and international reports prompted the closure of non-essential businesses, the cancellation of sporting events, research projects, conferences, commencement ceremonies, and mandates to shelter in place. These abrupt changes have led to one of the most challenging periods in recent history. As academic institutions grapple with these unchartered waters, some students are facing lost wages, dealing with issues of discrimination, and struggling to complete their coursework due to the digital divide. Faculty are being tasked with providing continued access to courses in a remote environment and balancing a new reality.
In an effort to provide an understanding to what is taking place in our community, we are seeking your help. We want to build a collection of our experiences and provide a channel for sharing stories. We want ALL voices to have a space within the institutional record. Future generations will gain insight into how Terps faced this global crisis thanks to your contributions to this project. We are asking our Terrapin community, including students, staff, alumni, faculty, and administrators to support this effort by sharing the effect of COVID-19 on their lives.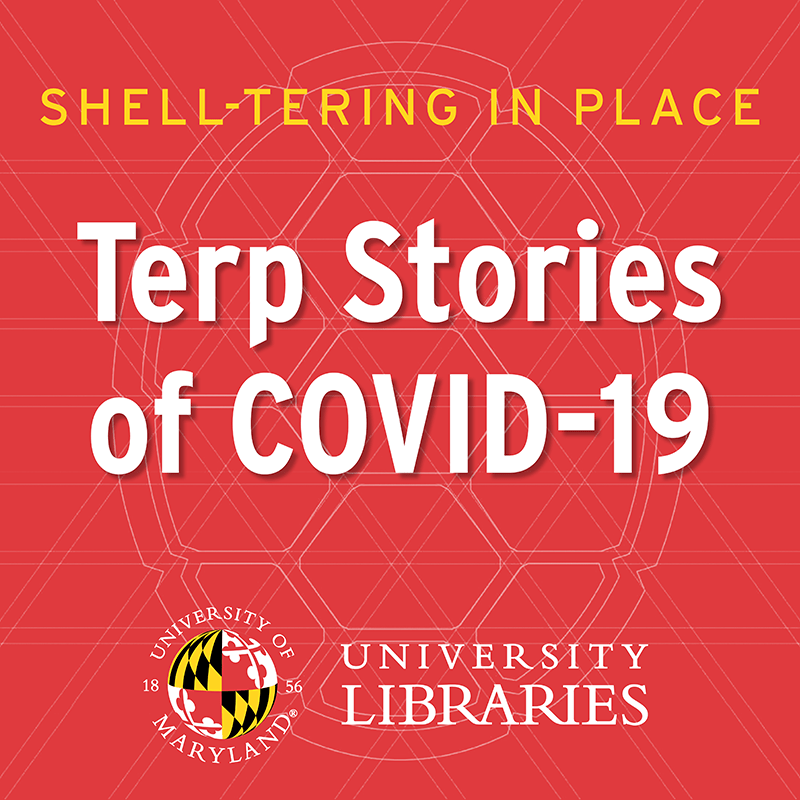 Share something you created
Complete the Digital Content Submission Agreement form to add your content to this collection.
We welcome a wide variety of media - anything that helps tell the story of the COVID-19 pandemic at UMD:
Journals - including vlogs and blogs
Audio / Visual Content
Class assignments - including multimedia projects, zines, and writing assignments
Social media content - including Twitter, Instagram, and Facebook
Digital fliers, brochures, newsletters, posters, and announcements
Not sure where to start?
Here are a few suggested prompts:
How has social distancing altered your routine as a member of the UMD community (student/faculty/staff/alumni)? What have you been doing to stay connected with other members of the UMD community?
How have your initial impressions of COVID-19 changed between when you first heard of its existence and now?
What was your response to the university's response to this pandemic?
What are some challenges you've experienced with online learning?
In what ways has the University shown support during the COVID-19 pandemic?
Have you personally faced or witnessed issues of discrimination or experienced socioeconomic disadvantages during this pandemic?
Contact us with questions about this project.