Portico Room
Room Description
Description:
Located on the 2nd floor of McKeldin Library, this is a moderately sized room with access to an outdoor patio area. The space can be used for a variety of purposes, especially lectures, group discussions and receptions. 
Size and Capacity:
Maximum seating capacity for the room is limited to 32. However, the room can accommodate up to 50-60 people standing. A minimum of 15 guests for events using the indoor space is required.
Reservation Policy
The Portico Room is available for use during hours when McKeldin Library is open. Events that will end after the library closes are not permitted. Only library groups may reserve the room on weekends. 
The room is intended for use by library partners and campus administration for special events. It is not available for recurring classes. Student groups and clubs are not permitted to reserve the room.
All reservation requests must be sent to lib-portico-room@umd.edu for approval. Requests must be submitted no less than 5 business days in advance. Changes to reservations must be received at least 24 hours in advance but are not guaranteed.
Because use of the Portico requires displacement of students and additional staff labor, requestors should consider other library spaces when possible, and are welcome to discuss their needs with TLC staff. Exceptions will be considered on a case-by-case basis through discussion with all stakeholders of the space. 
For larger events, please consider our Special Events Room.
Portico Room Charges:
There is a fee for setup within the Portico Room. An administrative fee will also be charged for each hour that the room is reserved. See below for a detailed breakdown of the charges:
 

| | | |
| --- | --- | --- |
|   | Regular Rate | 50% Premium |
| Room Setup: | $150 | $225 |
| Administrative fee (billed in minimum one hour increments): | $30 | $45 |

Reservations requested less than 5 (five) days prior to an event will incur a 50% premium on all room charges (see second column above for price breakdown).
Cancellation Deadlines:
Events canceled within 48 hours of an event will still incur requested event setup charges (the full amount).
Cancellation notifications must be confirmed in writing.
Other fees:
A payment of $75 will be assessed if the room is not cleared and restored to original condition after the event. An additional charge (minimum $75) will be applied if special cleaning of room is required after the event.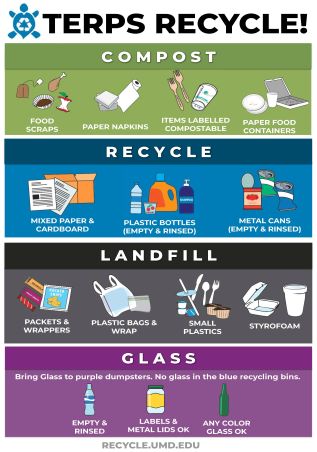 Food is permitted in the room. Event liaisons (i.e. organizers) are expected to clean up after their event, put all refuse in the designated bins (see graphic), and return the room to its original state.
If there will be food at the event, someone from the group must be available to meet the caterers. A $30 charge will be assessed if someone from the event is not present to sign for
the order. 
Food deliveries should be brought in via the McKeldin Library loading dock and the freight elevators. The loading dock is open 8:00 a.m. to 4:30 p.m. NOTE: If a Friday event includes food, the refuse must be removed from the room and taken down to the loading dock dumpsters.
Standard setup for the room includes 6-8 round tables with 4 chairs each. If this setup will not meet your group's needs, please let us know and we may be able to accommodate a custom setup. Rearrangement of the outdoor portico space is discouraged.
The following technology/equipment is offered for use in the room:
Monitor
Laptop
DVD Player
Whiteboard
For questions related to the Portico Room, contact:
For all other inquiries, please visit Contact Us or Ask Us!.